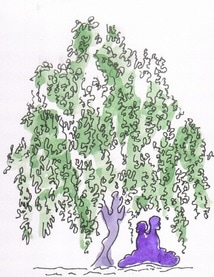 Willow Yoga
celebrate who you are

"Since 2006 providing you with a non-competitive, intimate environment to practice yoga"

​Our classes are kept small to provide you with high quality, individual attention.
---
We are a fully equipped studio with mats, blocks, straps, bolsters and lots more props you are welcome to use.
Policies and Etiquette

Here are some points of etiquette to ensure every person who enters Willow Yoga enjoys their class and has a positive and peaceful experience.

Please Please turn off your cell phone
Remove your shoes at the front door
Arrive on time, 5 minutes before class is a good practice
Do not wear perfume or scented lotions
Be considerate and share space with your neighbors
Pick up after yourself and if you borrow our props and mats, put them away in an organized fashion
Be kind to others that are still in class. Speak quietly before/after class or when in the reception area. Other classes might be in progress .

PARKING

Street parking or Public Parking Lot across from studio. Along Northwest Hwy and train tracks, between Evergreen and Dunton.
Also across the street from the studio is a public parking lot (don't be fooled, it's not for commuters) FREE for 3 hours.


Take a Willow Tour

We Are Located

8 E. Northwest Highway
Arlington Hights IL, 60004

847.483.9642

Look for the purple awning
Across from the Arlington Hts Metra station.