GINA CORNEJO RYT-200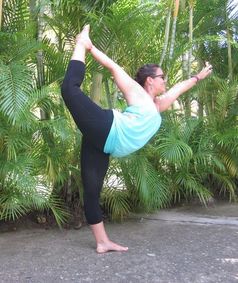 Gina Cornejo is a graduate of the Live Love Teach training program, receiving her 200 hour RYT Certification under the instruction of Deborah Williamson (Wild Abundant Life). She holds a Live Love Teach certification for Yoga Personal Training and Yoga Body Bootcamp. Practicing at various Chicago studios since 2006, she became attracted to the abundance of mind/body benefits that Power Yoga and Bikram Yoga brought to her. She loves teaching a challenging and empowering Power Flow for students who are yearning for a little yoga shake down!

Visualizing beyond her mat, she intends to combine her international travel knowledge and yoga teaching experience into yoga-adventure tours abroad. Her wanderlust has previously taken her to Portugal, Costa Rica, France, Spain, Netherlands, Germany, Peru, Dominican Republic. Her first tour currently being created will be in Spain, with Venture Forth Iberia, where she will be walking the ancient Camino de Santiago as a guide and yoga instructor.
Her completion of the Camino de Santiago, was in June of 2014, starting in St. Jean Pied de Port, France, and concluding the pilgrimage in Santiago de Compostela, Spain.
35 days of pilgrimage, love, blisters, nature, history, alburgues, cathedrals, vino tinto, and sunshine.

​Gina is a genuine seeker of all that exploration entails. Her classes are spunky and compassionate, spirited and sweet, with a focus on empowerment through encouragement – come as you are!




---